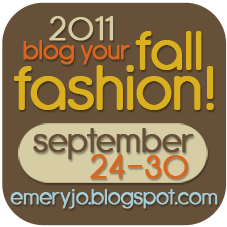 I forgot how much I love fall fashion week.
I did a little planning ahead and put together my outfit for today in my head last night so I could do photos and not try to scramble at the last minute to get photos in, edited and blogged before midnight today.
Leena is going to ballet today and I'm so happy. She's going to be so excited since she couldn't go to her two dance classes last week from being sick.
Before all that I need (read: WANT) to go to the store to get stuff to make "crock pot" lasagna. A friend posted about making this the other day and I was quite intrigued. I need good meals I can throw together in the morning or super quickly for Tuesday's and Thursday's so there is no mad dash after we get home from Leena's dance classes.
Did I mention she's in dance class? :D
ANYWAYS.
This is what I'll be running around looking like today.
But I will have a head.
Just had to document the belly button.
Outfit details:
Dress: Dillards, SUPER on sale!
Tights: Goodwill me thinks
Shoes: Old Navy
Headband: Modcloth, gift with purchase
I just need to find my cotton slip to wear underneath because satin on bare skin when it's a bit humid still, NOT good. Like you were wondering that.
Have a great day loves!
Peace and Love.